Comprehensive Strategies for Semiconductor Markets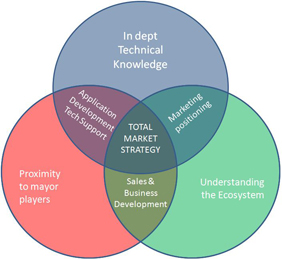 XS2ASIA has close to two decades of experience on the Semiconductor market. From IDM strategies, IC design flow to front-end process technologies in 22nm as well as Back-end, Advanced 3D Packaging and Test
Our excellence in this industry is based on three pillars:
- In depth technical knowledge
- Understanding the Ecosystem
- Proximity to mayor players

The combination of these three key strengths is neccesary for any comprehensive strategy and has been behind every succesful product launch in the Semiconductor market. Getting it wrong on the technology side, means that your product isn't compatible with any current demand. Not knowing your end-customers needs means your solution isn't compatible with their process. Not knowing your ecosystem means you have no clue where to position and how much to ask for your product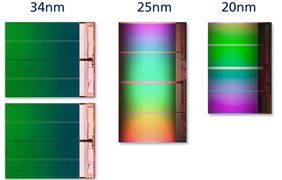 Over the years XS2Asia has run several projects in the Semiconductor Industry. Our broad knowledge about the industry spans across the entire ecosystem with additionally specialist experience in the following fields:
IDM & design choice:
Mixed Signal product development market strategy, IC-Design-flow
Front-end process:
Photolithography & Asociated metrology, Mask-shop, Doping, Oxidation, Deposition, Etching, Epitaxy.
Back-end:
ATE, Grinding, Wafer Dicing, Wirebonding, Advanced Packaging (CoWoS, WLCSP, BGA, CIS)
Our detailed understanding of leading technologies, combined with our knowledge of the ecosystem and regular contacts with mayor players, allows us to finetune a total market strategy for your product better than any other.
Previous and current projects include:
A total Worldwide go-to-market strategy, for a European Laser Dicing Machine Manufacturer
Market research into Automotive Semiconductor market for the Dutch Semiconductor company NXP
Full supply-chain impact analysis as a result of the Japanese Earthquake and Tsunami in 2011
Full supply-chain impact analysis, mapping the impact of the Thailand Floods in 2011
The start-up of Inotera Memories factory Phase I, in Linkou, Taiwan
Execution of Business Development activity in Asia Pacific and re-organization of the sales-force for an Equipment supplier
Selecting and driving Agents and Distributors in Taiwan and China for a Semiconductor Equipment supplier
The start-up of Lithography support for Intel F18 in Kyrat-Gat, Israel
Market research into Discretes Semiconductor market for the Dutch Semiconductor company NXP
Training sales and selecting staff for specialized equipment sales, teaching them to prioritize accounts and capture new opportunities
Sourcing and prioritizing external market-research reports for the corporate marketing intelligence department of a fab-lite IDM
Breakthrough account penetration for a Machine manufacturer negotiating a demo in TSMC
Planning the establishment of a regional office, that will house local market research staff for a famous French consulting company
Successful account penetration and demo conversion for a famous Dutch Lithography company in Toshiba, Yokohama, Japan
Market Research in after-market spare parts for mechanical wafer Dicing machines, for a well known Brittish machine parts supplier
Your project will be next!!
You have a breakthrough technology product?
We can bring it to market with a tailored selection of our market entry support products
Market survey of possible applications and market size potential of your technology
Market Strategy & Positioning, how does your product add value and how to convince clients to adapt your solution.
New Business Development
Sales & Field Support, Remote Office Setup, go direct?, we can help you break ground
Sales force development, driving remote sales-people is an art!
Qualify and drive Agents, Distributors, who is best suited to bring your product to your end customer, sell, install & maintain.
Selection of EFEM Integration partner & Project support, your breakthrough technology adapted to the needs of the customer.
Local presence to support the integration project and lower the TCC (Total Cost of Chaos)
..